No Results Found
The page you requested could not be found. Try refining your search, or use the navigation above to locate the post.
Here are reasons you should book with us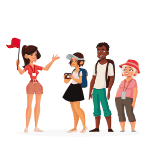 Best tour guide I have ever met
Tina – UK
I didn't have enough time to go around Lisbon, so I decided to take this tour, and it became the hallmark of my whole trip! Maria (tour guide) was very knowledgeable with a huge amount of interesting facts about the sites we have been too and an extremely nice personality that made me feel like I am on a trip with an amazing friend instead of just a tour guide. I can definitely say she is the best tour guide I have ever met.
Really funny and chatty
Emily – SWE
It was a great day and made seeing all of these sites so easy. Our guide Barbra was fabulous. Really funny and chatty which was great to have. She was extremely knowledgeable about everywhere we went and had interesting little bits of other information for us.
Enjoyed every moment of our tour
Cinzia – ITA
Andre, our tour guide was very knowledgeable and communicated the right depth of information. He anticipated our needs and gave us good suggestions for lunch. Touring with a small group of 7 people was great. Enjoyed every moment of our tour.
Highly recommend
Alex – UK
Our guide Rita was so knowledgeable she made the trip. Visited some absolutely amazing places would highly recommend this trip.
Funny and informative stories
Yulia – UK
Andre was fantastic, shared funny and informative stories with us. Definitely the highlight of our holiday in Portugal.
Was a brilliant day trip
Marco – ITA
This was a brilliant day trip, the highlight of my time in Lisbon. I loved our guide Andreas, he was so friendly and gave just the right amount of historical info, whilst keeping it fun. The new aircon van was super clean and I prefer the small tour style.
We appreciate your feedback
If you' ve been impressed with our service, please take a moment to share your experience on Tripadvisor. As a Local business we value your support!
Get to know all about Portugal!
All you need to know about Lisbon beaches – The best 5 beaches you cannot miss Few visitors realise that a holiday to Lisbon can easily combine the amusement of a city break with the relaxation of a beach holiday that pleases all tastes: from calm family-orientated...