Here are reasons you should book with us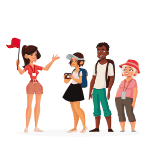 Muy recomendable la experiencia
Joseph – Espanha
Muy recomendable la experiencia. Es muy difícil acceder a los monumentos en sintra por lo q llevar un guía q te informe y te recoja es una gran ayuda. Nuestra guía Maria fue excelente. muy simpática, nos explicó todo y nos ayudó en todo momento. Un gusto poder contar con ella en nuestro viaje.
Disfrutamos y recomiendo encarecidamente
Vinod Raja – Espanha
La gira fue excelente. Nuestras guías Isabella y Maria nos mantuvieron informados durante todo el viaje con información valiosa sobre los lugares visitados junto con anécdotas interesantes y contexto. También nos dieron suficiente tiempo libre para explorar por nuestra cuenta. Un deseo que teníamos y que no está en el recorrido fue visitar Quinta da Regaleira. Fueron extremadamente serviciales y permitieron el tiempo necesario para explorar, brindaron consejos y luego nos recogieron en la salida para que pudiéramos continuar hasta Cabo de Roca. Esto fue durante el tiempo libre en la ciudad de Sintra. Isabella y María nos dieron un día lleno de diversión que realmente disfrutamos y recomiendo encarecidamente hacer un recorrido con Tuga Tours.
Esto es imprescindible si estás en Lisboa
Natasa – Malta
Esto es imprescindible si estás en Lisboa. Es un recorrido con buen ritmo que le brinda mucho tiempo para disfrutar de todas las áreas sin que se convierta en un lastre. El guía (Ricardo) también fue una adición muy bienvenida al recorrido, ya que nos dio un soplo de conocimiento sobre el castillo, así como todas las demás áreas que visitamos y siempre con buen sentido del humor. Muy recomendable.
Complemento perfecto a nuestra estancia en Lisboa
Christophe – França
Recorrido muy atractivo, con guía (Isabel) amena y profesional. Complemento perfecto a nuestra estancia en Lisboa.
Guia espectacular que respondio a todas mis dudas
Alba – Espanha
Muy buen tour! Renata fue una guia espectacular que respondio a todas mis dudas, y ademas dio mucho contexto a cada detalle del recorrido. Recomiendo mucho este tour, ya que merece la pena recorrer estos hermosos lugares.
Atencion vip
Diego - Venezuela
Nuestra guía Renata fue muy profesional, le gusta la historia, nos dio muchos datos interesantes y recomendaciones. Atencion vip.
Excursión muy recomendable
Carmen – Malta
Excursión muy recomendable. La guía María muy maja, nos facilitó el viaje y adaptó a nuestras sugerencias. Mil gracias!
Por lo demas perfecto
Mathilde – Espanha
El viage a Sintra bien aunque cogimos bastante carabara. Nuestra guia Isabel muy atenta y se nota que sabe un rato de Historia. Cabo de roca muy bonito. La unica pega que le veo a este tour, es que no te queda mucho tienpo para ver Cascais. Por lo demas perfecto.
Agradecemos sus comentarios
Si ha quedado impresionado con nuestro servicio, por favor, tómese un momento para compartir su experiencia en Tripadvisor. Como empresa local, ¡valoramos su apoyo!
Get to know all about Portugal!
If you are visiting Lisbon for a short break, we help you getting to know what to visit taking advantage of how close the city of Lisbon is to other areas with different landscapes from the one you will find in the heart of the city. And that is exactly one of the...
Here are the 10 reasons why you should start planning your post-pandemic first trip to Lisbon With the pandemic situation that had us all locked down for a long time, you are probably already dreaming about the trip you'll do once the virus gives us a break! If you...
Sometimes we are hungry for food, thirsty for some music or full of everyone's crap and just in need for some time by ourselves. One thing is for sure: on the background of our needs, a sunset should always make the healing process easier or more delightful. Lucky you...